There are two types of poverty, one is due to lack of food, clothing and shelter and the other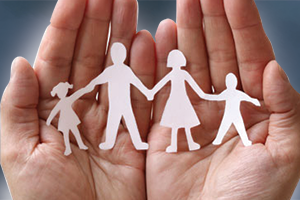 is poverty caused by lack of compassion and love and emotional support. Sewa Australia's Family Services is a pre-counseling service for those in need of emotional support and serves the people in distress with love and compassion.
BACKGROUND
Family Support Services is working on family support, health and well-being of South- Asian Community with focus on Indian community to create a healthy, enabling and empowered society.
VISION
Vision of Family Support Services is to build a Sustainable and Equalitarian society for South Asian families including children, youth, women and aged.
MISSION
Mission of Family Support Services is to empower South- Asian Families in Australia through information, knowledge, services and appropriate referrals.
OBJECTIVES
Supporting and Strengthening newly arrived  Families
Helping families going through separation by giving information, knowledge and appropriate referrals
Providing support to families in transition and distress through services, knowledge and resources.
To create a support hub with resources ,information, trainings  to provide support to the families
Aiming at social, economic  and healthy well-being environment for the families
Aiming at creating violence and trauma free environment for children, young people and families
PROJECT ACHIEVEMENTS ( 2010 – 2015 )
FSW program of Sewa Australia Inc. has been operational for more than 17 years. The program is getting an overwhelming response from the South -Asian Community at large.
In 2010-11, through FSS program support had been provided to more than 15 families through preliminary counseling, fund raising, referrals and other supportive services.
In 2011-12, support and preliminary counselling given to more than 20 families going through issues of unemployment, domestic violence and family conflicts.
In

2012-1

3, the number of cases increased to more than double to 60 families to which support has been provided in terms of preliminary counseling, information and referrals
In the year 2013-14, the number of cases which has been catered to constitute more than 20 families handling issues related to children, young people, women and other family members.
Goodwill established within the community and ample generosity received from the South Asian Community
Outreach work was done tirelessly by the FSS volunteers through individual efforts which won credibility for the organisation
Organisation was represented satisfactorily in conferences, workshops, gatherings, meetings, events etc.through volunteers of this FSS program thus bringing name and goodwill for the organisation.
FSS volunteer received two awards as a recognition for her contribution to the South Asian Community, on 26th January 2014 from United Indian Association and on 28th March 2015 from Global Organisation of people of Indian origin(GOPIO)
Branding of FSS program through banners
Promotion of FSS program through community  events, exhibitions and fairs
FSS program promotion through flyers
Promotion of FSS program through Sewa Australia Inc. Newsletter
Most of the work has been done in collaboration and partnership established with the following organisations,
Friends of India
Tamil Sangham
Kannada Sangha
Gujarati Association
Malyali Association
Marathi Association
Women's Legal Aid Centre
Vishwa Hindu Parishad
Boronia Multicultural Services Inc.
Tamil Women Development Group(TWDG)

For more information about Sewa Family Services or to volunteer,
please contact:
Mrs. Saraswati Sashi 
Email: familysupport@sewaaustralia.org